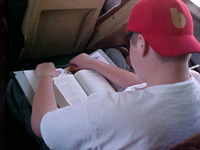 All Scripture is inspired by God and is useful to teach us what is true and to make us realize what is wrong in our lives. It straightens us out and teaches us to do what is right. It is God's way of preparing us in every way, fully equipped for every good thing God wants us to do. (*2 TIMOTHY 3:16-17*)
Verse of the week!
Revelation 16:15
Behold, I come like a thief! Blessed is he who stays awake and keeps his clothes with him, so that he may not go naked and be shamefully exposed.
What i got out of this verse was that we need to read his word every day, and do it with our hearts. We also need to be praying all through out the day to God. If we have our eyes set on God all the time then we wont have time to sin. God bless and have a Merry Christmas.
salvation
acts 13:38-39
galatians 2:20
2 corinthians 5:17
Romans 6:23
john 14:6
Friendship
Poverbs 18:24
direction
1 timothy 4:12
philippians 2:3
exodus 20:12
proverbs 3:5-6
boldness for god
2 timothy 1:7
psalm 100:4-5
Light the fire
galatians 5:22-23
ezekiel 36:26
dying to self
galatians 5:24-25
ecclesiastes 12:1
temptation
1 corinthians 10-13
staying pure for god
romans 12:1
prayer
luke 11:9-10
2 chronicles 7:14
matthew 6:5-6
matthew 21:22
mark 11:24-25
worrying
matthew 6:32-34
isaiah 41:10
asking god for help
james 1:5-7
jeremiah 29:11
ecclesiastes 12:13-14
joshua 1:9
music
psalms 150:4-5
jugges 5:3
nehemiah 12:27
pslams 27:6
psalms 33:2-3
psalms 149:1-3
ephesians 5:19